HAHA.
I don't know, I'm going to mentally archive this blog as "Something I will regret posting later" but here we go.
So MEKONG 2012. The Frat party of the semester (as cliche as that sounds). I was excited as ever for this event, full of free alcohol, a huge "build," the ying yang twins (where is lil jon??? they don't come as a package deal?????) young joc, and might I reiterate,
free alcohol.
My friends (well the ones that I was able to keep track of up until that point) and I had just taken some fairly
ratchet
classy Party Time Mike photos and had made our way to a nice cozy little section in front of the stage. Cozy as in shoulder to shoulder with oh, 50 other people trying to be in the front rows. We were all waiting for the unidentifiable black rappers to make their way towards the stage when all of the sudden, I feel a significant shoulder bump. And again. And again.
rude.
Needless to say, I turned around and politely shouted, "OKAY YOU CAN STOP THAT NOW." I forget what shoulder-bumping-girl said to me, but it was less than sweet, I can imagine. What seemed like circa 17 minutes later, her friend in front of me told her to move forward, which would involve me moving backwards for them.... The shoulder-bumping-girl shouted back, quite blatantly, "THIS BITCH IN FRONT OF ME WON'T MOVE." woah, nelly. Name calling? OKAY. OH OH OKAY. But I didn't say anything I just smiled at her as big as I could, like, "DATS RYTE, I AIN'T MOVIN', YO." But alas, this group of mean girls kept giving me the stink eye and just talking about me right in front of me, ugh, so I just stepped to the left and let the tranny walk in front of me. GAWD I'M SO NICE IT KILLS ME.....or have I spoken too soon????
What seemed like a good 9-14 minutes later, the mosh pit of drunk college students gets a little rowdy as we diligently wait for the rapperz, and I unintentionally bump into said group of mean girls. COMPLETELY UNINTENTIONAL. It was crowded and everyone was bumping everyone, like a sack of potatoes in the back of a pick up.
Then another gurl chimes in and says "Stop being rude to me and my friends, and stop pushing us, OH AND YOU COULD LOSE 40 POUNDS."
....TO WHICH I REPLIED......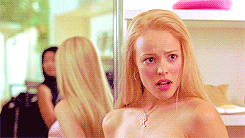 OH 40 POUNDS??? REALLY??? REALLY??? OKAY I COULD SEE 10, MAYYYYBE 20, BUT FORTY????????? OOKKKAAAYYY BETCH. OOOKKKAAAYY. OKAAAAYYY
I was honestly so taken aback, my mouth just dropped to the floor. I stood there for at least 4 seconds before forming a response. Then I looked at the guy behind her, who had that "oh shit, that was a little harsh" look on his face and I said,
"OUCH. Girls are so mean!!??? WHY ARE GIRLS SO MEAN?????"
I drunkenly questioned the surrounding peers.
So I was about to let it slide. I stood there and let the situation sink in, and then oopsies, vodka sour number 83 of the night kicked in and had another idea. Suddenly I was ENRAGED. FUMING. SEEING RED. FILLED WITH RAGE. not my finest hour.
After vodka sour number 83 kicked in, my inner black diva decided to make a visit. I immediately thought to myself,
"OHHH HAAAYYLLLEE NO I'M NOT ABOUT TO LET THIS WHITE GIRL GET AWAY WITH THAT."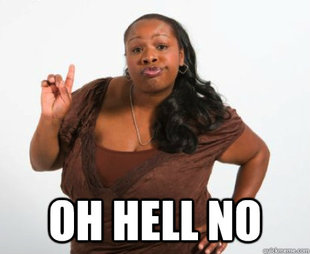 Thus..... I looked at her with eyes of fire and said verbatim,
"You thought I was pushing you before? I WILL SHOW YOU PUSHING."
THEN with every fiber of my being, I pushed her with the force of ten thousand waterfalls. Being this was a crowded area, I incidentally caused, oh, 6-8 other surrounding people to fall over. AM I SORRY????? NAH.
Then all the boys, Delta Tau Deltas, around said, "Okay you have go to leave, you need to go," and hello. hello. hi. who am i. uh uh. no no no no. AINT GON' HAPPEN.
I literally just stood there, and thought,
hmmmm what would jesus do??
And then it occurred to me:
So that's what I did. AND LET ME JUST TELL YOU, NO ONE MESSED WIFF ME FOR THA REST OF DA NIGHT. DADDY WOULD BEEN PROUD i think yikes idk maybe yikes hmmm.
Finally, I just left. I left the mosh pit. I decided shedding soft tearz would be more fun so lololol I enjoyed myself a good solid drunk girl cry and called it a night, more or less.
OH AND GUESS WHAT. I SAW ONE OF THOSE GIRLS TODAY AT BRUNCH AT PANCAKE HOUSE. SHE GAVE ME A DIRTY LOOK. I SMILED AND WAVED LIKE SHE WAS AN OL' FRIEND. LOL #LYFE
IN CONCLUSION....
I am NOT that girl!!! I have NEVER been the girl that gets in fights with other girls and gets involved with drama like that! WHAT WAS THAT??? So embarrassed how that transpired. If I hadn't ingested so much liquids #vodka, I know I wouldn't have let that snide comment get to me. But as I have learned the hard way, time and time again, SH*T GETS EMOTIONAL AFTER THE 87TH VODKA SOUR. Another point I'd like to make is: WHAT KIND OF PERSON TELLS A STRANGER THAT/?????? I am shocked. Girls really are so mean. It is amazing (in a bad way) to me the damage that the tongue can do. I know the Bible quotes it somewhere, in so many words, how the tongue is the most dangerous or deadliest body part. It is so true!!! People need to check theyselves before they wreck theyselves. The whole situation made me realize how important it is to watch what I say to people. Because once you say something, it's out there forever. Whether you meant it or not. People can forgive, but it is hard to forget the sting of painful words, no matter how ridiculous they are. GAWD I HATE GETTING SENTIMENTAL, but in conclusion, watch what you say. Especially to girls/women. All of us are fragile insecure creatures that think we are trolls deep down, SO DON'T ADD FUEL TO THAT FIRE.
As MIA would say, "watch yo' mouf, yo"