Tina Fey and Amy Poehler were hilarious and perfect in last night's 70th Golden Globes ceremony. I say they pull a Ricky G., and go ahead and host the next two ceremonies as well. Now sit back, eat an entire Orville Redenbaucher pop up bowl, not that I did that last night or anything, and read up on my favesie GG momentz.
1. Kate Hudson
Kate, you are the never aging, always sexy, perfectly witty, and ever-charming A lister that all of us hope to be. However, every time I see you, my head is immediately flooded with How to Lose a Guy in 10 Days quotes. "OUR LOVE FERN.... YOU LET IT DIE..... ARE YOU GONNA LET US DIE BEN?????" "BENNY BOO BOO BOOBOOBOO" "Nobody likes a MISTER SNIFFLES!!!....i hate mr. sniffles." etc etc etc
Anyways. I'm glad Kate went with black and not something colorful. I'm over colors. Which brings me to my next favorite.
2. Rachel Weisz
YOU HAD ME AT POLKA DOTS. Other non-reputable critics might say the sheer is too informal for the globes, but I say POLKA DOTS!!!!!!!!!!!!!!!!!!!!! Looks great with her red nails and diaMoNdZ.
3. Jennifer Lawrence: "OMG I BEAT MERYL"
There is no better way to express my feelings on J-Law than the following:
3. Lena Dunham: LOVE YOUR WORK, BUT FIRE YOUR STYLIST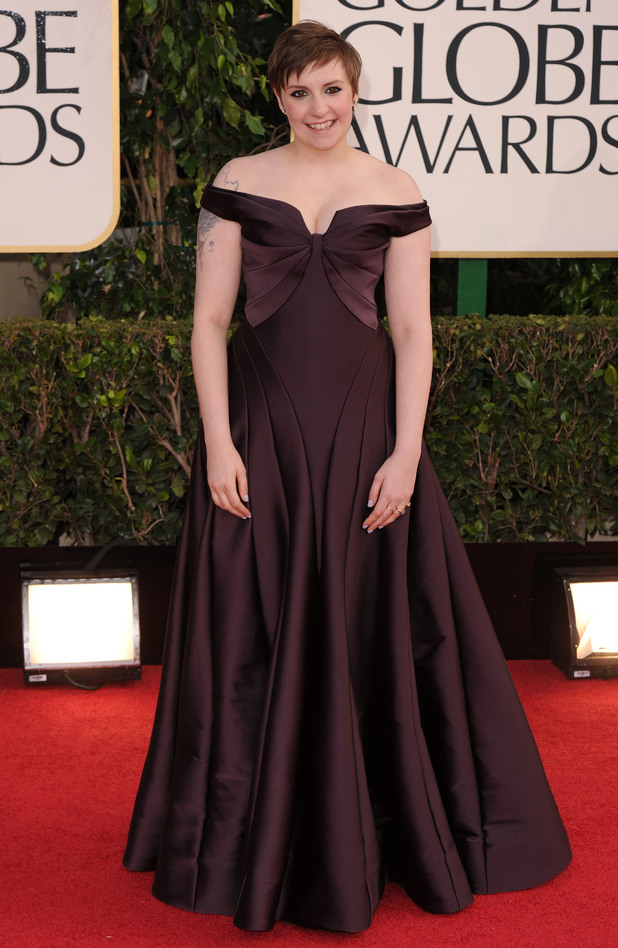 Ok. ok. ok. ok. Hate to be the piano that falls from the sky onto Lena's glory, but when she walked up the stage to accept her awards, SHE FAILED TO BE ABLE TO WALK. I don't know what kind of monstrosity of a heel she was wearing under that plum butterfly-top dress, but it ruined the whole look, EVEN THOUGH THEY ARE INVISIBLE. The whole point is looking graceful, effortless and stunning when you're on the red carpet, or giving an acceptance speech. She was stumbling and shaking her way through the night and it drove me insane. I tweeted her to take off her heels. No response.
FASH-HOLES
1. FREAKING Hayden Patienierreieisoiflskdf lsfdksflk sksjfjl;asdkl ;fsdjkl fdsjkl
WELL WELL WELL LOOK WHO WE HAVE HERE. IF IT ISN'T SANDRA DEE HERSELF. Hayden you bore me to tears. The only half-way interesting thing about you, Hayden, IS YOUR LAST NAME. THAT NO ONE ON THIS PLANET CAN SAY OR SPELL. H-Pat played it safe, like she usually does. Looks pretty, like she usually does. La la la, like she usually does. Like someone said on The Twitter last night, "She reminds me of a generic brand of vanilla ice cream."
2. J-LO........ HOW ARE YOU STILL RELEVANT?????? WHY ARE YOU HERE???????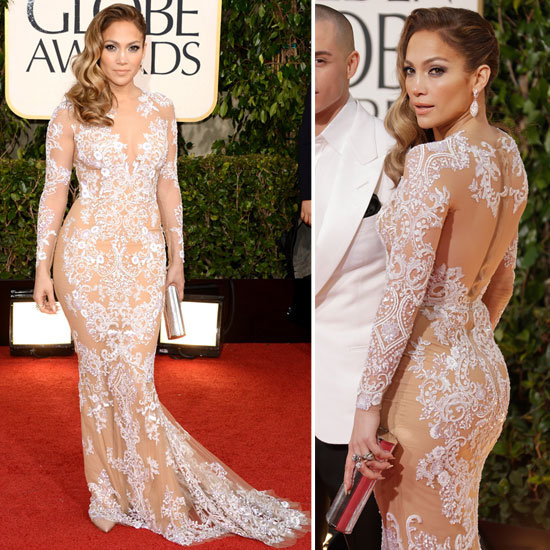 I'm so over J-Lo, almost as much as I am over colors. Literally though. Why is she here. Why are we still talking about her. Selena came out years ago. WHAT HAS SHE DONE SINCE THEN, REALLY, BESIDES MARRY HALF OF THE MALE CELEBRITY POPULATION??????? And she looked great which is even more annoying.
3. Halle Berry'

S BOOBS CAN'T MAKE UP THEIR MIND
We all know Halle Berry is stunning and has a face that can pull off a lesbian spike hair do for years on end. Her arms and peekaboo leg look fabulous, but her other body parts are just a tad bit confused. One is excited and wants to hang out with everyone, do the meet and greet, the whole 9 yards, embrace the surroundings, BUT THE OTHER BOOB is like a troll under a bridge, a bee in a hive, a lion and witch in a wardrobe. And I hate the pattern and that's all I have to say on the matter.
"Drunk" Tina & Amy after losing, more specifically when Tina said, "WE GOT YOU THOUGH MIDDLE SCHOOL" lolololololollllooollllllool
Kristen Wiig and Will Ferrel presenting. His mustache. It kills me. It. Literally. Kills me.
When Anne Hath said "string of yesterdays"
Mel Gibson's face
And to Jodie Foster: I LITERALLY HAVE NOT SEEN A SINGLE ONE OF YOUR MOVIES, CONGRATS ON THE LIFETIME ACHIEVEMENT AWARD.