Big news: RYAN MCGONAGILL OF BOSTON MASSACHUSETTS HAS DECIDED TO TAKE ON THIS CHALLENGE WITH ME.
Therefore, he will be popping in and doing some guest blogs, and watch out, he's funnier than even me--I KNOW, HARD TO BELIEVE, SOMEONE FUNNIER THAN ME, I KNOW, BUT YES, HE IS, BELIEVE IT SISTER.
US BEFORE WE STARTED THE CLEAN EATING CHALLENGE
US ONE WEEK AFTER STARTING THE CHALLENGE
SO YEAH WE'RE LIKE FEELING SRSLY CLEAN N HEALTHY N SH
✽
T
When I say I'm taking on a "clean eating challenge" what this really entails is eating all natural like 87.982% of the time. Ryan and I both decided beer and coffee are both pure and natural and all that is holy and
thus
allowed on the plan. In addition to those exceptions, I'm not opposed to letting myself eat something normal the other small percentage of the time. Por ejemplo, I went to the movies last night with my gUrL FrIeNdZz and had peanut M&Ms and popcorn.
Despite the small allowancez and exceptionz, my whole way of cooking has changed. Being that, I'm actually, you know, like cooking.
Tilapia
Brown rice
Quinoa
Chicken breasts
Whole wheat pasta
Asparagus
Sweet potato french fries
Kale chips
Hard boiled eggs
TONS OF FRUIT LITERALLY UNCANNY AMOUNTS
Almonds
Omeletes
Salad $tuff
Sauteed squash (OLIVE OIL IS MY BEST FRIEND.)
Greek yogurt (DOES ANYONE ACTUALLY LIKE GREEK YOGURT??? SERIOUS QUESTION????????)
Cottage cheese.
I feel the need to make cottage cheese its own bullet because I eat it that much. With that said...
Coffee.
Coffee.
Coffee.
#Obsessed
I've also grown fond of these suckers I found at Market Street.
☝
CLASSY BIRTHDAY FLOWERS & FRUIT IN MASON JAR SHOT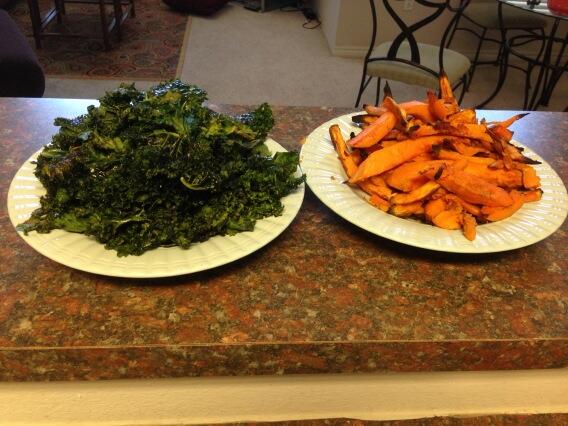 Kale chips and sweet potato #HOUSEWIFE
SO I LITERALLY MADE THIS ATE THIS AND INSTAGRAMMED THIS. Strawberry spinach salad with chia seeds and sunflower seeds #soooooooo #gooooooooood
#TILAPIASWAG
Pardon my extremely advanced production equipment. This particular image was captured by my EXTREMELY ADVANCED IPHONE TECHNOLOGY. I BETTER COPY RIGHT THIS SO I DON'T FIND IT BEING USED ON A KASHI COMMERCIAL OR SOMETHING #INFRINGEMENT
My market Street salad
☝
with olive oil and balsamic vinegar and a dash of happiness, health and prosperity for dressing.
Ryan's chicken, broccoli and cheese concoction
☝.
Said Ryan on the recipe, "IT'S DELICIOUS, DAMN IT."
According to The Gracious Pantry, canned veggies and packaged meats aren't allowed, which really imposes on my fondness of chickpeas and well, packaged turkey meat. IT'S FINE I'LL JUST PLANT A GARBANZO BEAN GARDEN ON MEMORIAL CIRCLE, I WILL BE FINE, ALL IS WELL THAT ENDS WELL.
Not being able to eat Nature Valley bars. CHRIST. Those are healthy, lalala, yes, but they aren't all natural, SO THEY MIGHT AS WELL BE KRISPY KREME DONUTS ON THE ALL NATURAL DIET.
Not eating Jack in the Box at 3 AM is... uncomfortable.
Switching from ranch dressing with salad to olive oil and balsamic.
SAYING NO TO COMMUNITY BOXES OF PIZZA AT WORK.
Not having cheese.(only parm) Wah
Not having store bought pasta sauce. I try to just do tomatoes, parmesan cheese, olive oil and salt.
Not having packaged turkey meat. IT'S PROCESSED.
NOT HAVING SUN CHIPS.
NOT HAVING SPECIALTY COFFEE DRINKS FROM STARBS
Recipes I want to try
☝
(of course drinking organic, whole wheat, gluten free, calorie free, clean, vegan, plant-only, holy, alcohol at Chimy's)
Stay tuned for Ryan's blog.
✌