I was reading the new People magazine today, and stumbled upon a picture of Rooney Mara at the Girl with the Dragon Tattoo premiere.
Dress by Prabal Guring

I'm sorry,
HOW INSANE IS THIS DRESS?!?!!?!?!?
I only mildly freaked out when I saw it. It is literally on par with Elie Saab dresses in my humble opinion. I am going to google the crap out of Prabal Guring after this post. Rooney Mara is just stunning in general, and this dress is ever bit as interesting as Lisabeth Salander. Speaking of ol' Lis, did any of you read Girl with the Dragon Tattoo (or girl with the tramp stamp, as my friend says)???? The book was awesome. I mean, yes, the first 150 pages was rather akin to studying the attributes of metamorphic rocks in a size 10 font, but once you get through with that, the rest of the book is ridiculous. Let me put it this way: I stayed up until 4AM two nights in a row reading this book...............
WITH 7:30AM FINALS.
It is literally impossible to put down. Therefore, I highly recommend it.
And then there is the movie.
What a doozy. Did any of you see the movie??? I made two friends go with me and they wanted to kill me afterwards. As one friend put it,
"I don't want ice cream anymore. I don't want to live anymore."
lol. I don't blame them, it was a really hard movie to watch. Very disturbing. And I can't even imagine seeing the movie without first reading the book. That was the only reason I understood what was going on. While some parts were 10 times of disturbing and downright nightmare-inducing, it was overall an ingenious movie. The acting, production, music, appearances, everything was incredible. The movie didn't trim out anything important, and only a small part was changed from the book (with good reason, otherwise it probably would have been 9 hours long). Despite the uncomfortable scenes and the fact that Mara doesn't have eyebrows in the movie, I was most distraught thinking about how on earth she was able to pull off that swedish accent???? REALLY THOUGH???
All in all, I am glad I saw the movie. However, it's not something I'll go back to the theaters for repetitively like I would with Twilight or Harry Potter (yes I'm one of those people). I read the VOGUE issue with Rooney on it and actually learned a lot about the movie.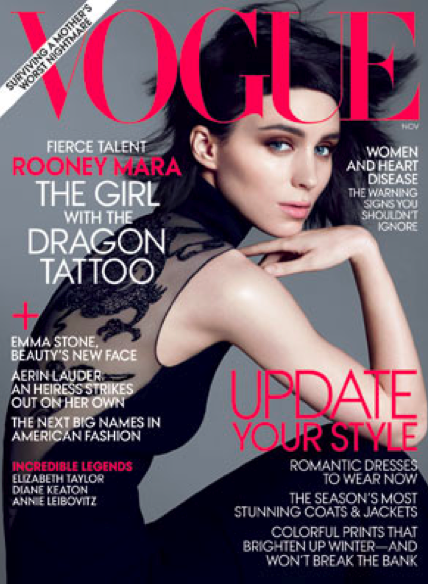 READ THIS ISSUE
If you didn't know already, Stieg Larsson, the man who wrote the trilogy, died after he wrote the 3rd book. Therefore, he has no idea how successful his books are, nor was he able to finish the series.
Larsson was inspired to write the book as a way to get his own sort of revenge: when he was younger, he witnessed a gang rape involving a girl named "Lisabeth," and always hated himself for not interfering. The book is definitely his fantasy revenge of how a girl gets revenge.
Mara and the director, David Finch, have an extremely high admiration and complex respect for each other. The article really stressed on that and even costars noted how it was super weird. Lol.
Mara and Finch claimed that "being super skinny wasn't an issue" for Mara, but in the lunch interview, it was noted that she ordered a salmon and "barely touched it." SOMETHING IS FISHY ABOUT THEIR STATEMENT METHINKS.
The Swedish movie version of Lisabeth has eyebrows and is actually kind of pretty. But in the American version, Lisabeth has no eyebrows and isn't really appealing at all. I personally like that better.
Well go read the book, it's great! I am going to start the next one as soon as I finish Pride & Prejudice. Which is taking me a while.