If only I won the lottery, these things would be in my life...
1. The Linea Pelle Dylan Quilted Chevron wallet. For those of you who are around me enough to listen to me complain all the time, you know I've been on the hunt for the perfect wallet for quite some time. SO FINALLY one of my favorite designers came out with a quality wallet that (drumroll) HAS A CLEAR SLOT FOR THE
fake
ID. Finally. And although I don't like zebra as near as much as I did in high school, I don't mind her signature zebra-esque lining. You go Linea. Oh, also obsessed with the color crimson.
2. The GGL Backpack. Do I even need to explain why this is an object of envy??? Do I really need to??????? This color doesn't stand out as my fav, but Chrome just got in a sport nylon one and..... just no words.
3. Leather. Skirts, shorts, dresses. Just need more of it in my life, other than jacket-form.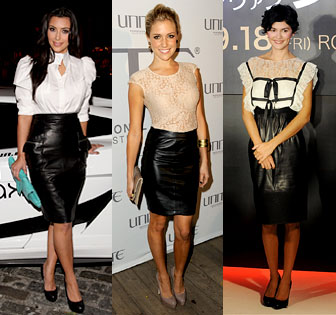 4. The kimono jacket. The floor length cardigan. Whatever you want to call it, just mail it to me in my size.
5. The Palazzo pants. I've already blogged about these, so you know I mean bidniz. And can one really own too much floral? I'll tell you that answer is no.
6. Lusting after loafers. Hello fall 2011 trends. Get on my level.
OH- and don't miss these studded Jeffrey's... #obsessed
7. The Navajo trend. I just want it to last forever. But then again I'm from New Mexico, and while I wasn't raised in a teepee, things like this have always been in my house, and a part of my town. TURQUOISE FOREVER.
And finally, my last object of envy would have to be thousands of dollars. Because if I had that, I would be able to have all of the other objects of envy.
Until then... I CAN BLOG ABOUT IT!!!!!!!
P.S.
Pretty much everything in this blog can be found at Chrome. But like literally everything. So if you live in the LBK, then go ASAP, OMG, TTYL.